A trip to the stars can smell like the sea with Starfish
This piece evokes a sense of marine feelings, and it will sure not go unnoticed! Transform your outdoor environment into a marine oasis. Whether alone or as part of a poolside seating ensemble, this stellar bean bag chair is the perfect choice for those looking for a fusion of style and comfort in an ocean-inspired design. you can combine its sizes and different colors to create chilled out and relaxed areas
Allowing you to personalize your experience. Are you looking for an individual seat or a space to share with friends and family? With three size options, choose the "Starfish" that perfectly fits your lifestyle and needs.
It is made with drainable fabric and  fill that allows water to flow freely, ensuring it dries quickly after use in aquatic environments. OGO Furniture's enduring quality is reflected in every detail of the "Starfish." Made from high-quality materials, it's not only a stunning design piece, but also a durable option that will maintain its charm and comfort over time.
Starfish is arguably our star product.
By Nacho Timón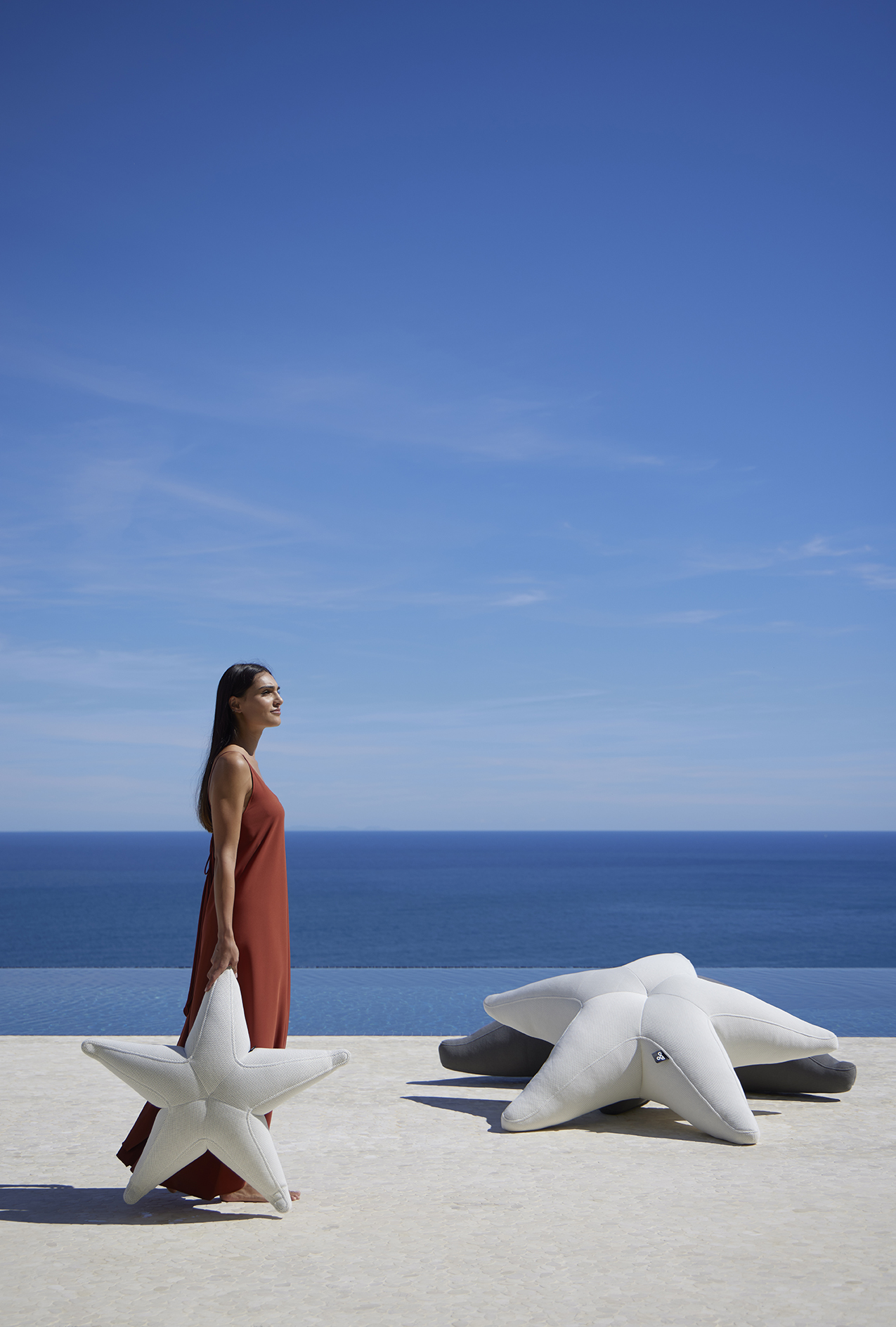 Designed by Nacho Timón. Handcrafted made in Spain.
The filling depends on the type of fabric as well as the use
(pools/outdoor/indoor):
G1/23 – 3D Fabrics. Filling: 100% polystyrene pearls suitable for outdoor use and pool. The weight of the items increases in contact with the water as the fabric is 100% breathable and drainable and allow the water goes inside and drain properly after each use.
G2/23 – Fabrics. This article is not available with Silvertex G2/21 fabric.
G3/23 – G4/21 Fabrics. Filling: mixture (30% polystyrene + 70% foam rubber) suitable for indoor and outdoor use, NOT POOLS. The fabrics are water-resistant, UV/Fade resistant, bleach cleanable (20% bleach / 80% water).
The total measurements shown in this form can vary between 5 cm +/- up depending on the type of product and the type of fabric used.
Please note: this item increases its weight in contact with water, therefore, depending on the size of the product, it may be necessary the assistance of two persons to lift it out of the water.
DIMENSIONS
83x83x20cm S | 145x145x27 XL | 180X180X35 XXL
VOLUME
0,09 m³ - S | 0,51 m³ - XL | 1,03 m³ - XXL
NET WIGHT
2,4 Kg - S | 6 Kg - XL | 7,3 Kg - XXL
Sizes
G1/23 3D Agora | ANTHRACITE