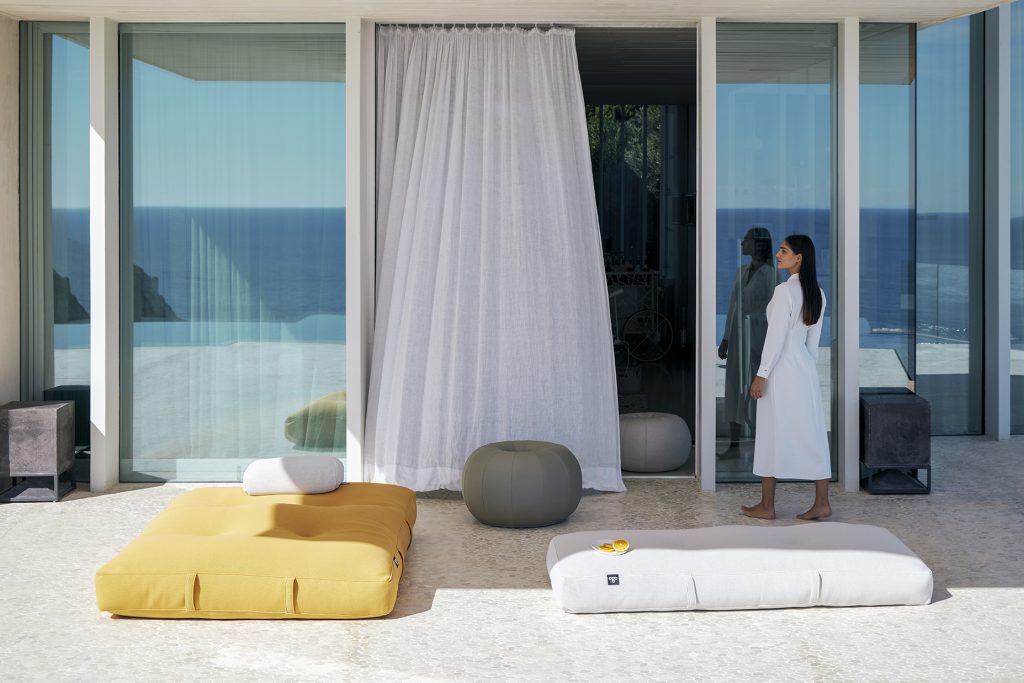 Mandarina
Light, fluffy, original and fun. With such description it could be
no other than our Mandarina. A cozy and cheerful detail that will
bring life to any space, whether indoors or outdoors.
Mandarina is the perfect choice for smaller spaces looking to maximize comfort without sacrificing style. Its compact size allows it to be placed in small areas, creating a cozy corner for moments of relaxation.
Mandarina by OGO Furniture invites you to create a unique relaxation space in your home. Its round design and compact size Imagine a relaxing patio or reading area, decorated with several Mandarinas in bright and cheerful tones.
Express yourself through color and create an environment that reflects your unique style.
This seat is available in different sizes and colors–, offers more possibilities to decor whit dots of color.
Designed by Ogo Team. Handcrafted made in Spain.
The filling depends on the type of fabric as well as the use
(pools/outdoor/indoor):
G1/23 – 3D Fabrics. Filling: 100% polystyrene pearls suitable for outdoor use and pool. The weight of the items increases in contact with the water as the fabric is 100% breathable and drainable and allow the water goes inside and drain properly after each use.
G2/23 – Fabrics. This article is not available with Silvertex G2/21 fabric.
G3/23 – G4/21 Fabrics. Filling: mixture (30% polystyrene + 70% foam rubber) suitable for indoor and outdoor use, NOT POOLS. The fabrics are water-resistant, UV/Fade resistant, bleach cleanable (20% bleach / 80% water).
The total measurements shown in this form can vary between 5 cm +/- up depending on the type of product and the type of fabric used.
Please note: this item increases its weight in contact with water, therefore, depending on the size of the product, it may be necessary the assistance of two persons to lift it out of the water.
DIMENSIONS
ø60x38cm /ø70x43cm /ø70x43cm
VOLUME
0,12 m³ / 0,22 m³ / 0,22 m³
NET WIGHT
3 kg / 3.5 kg / 7 kg
Sizes
G1/23 3D Agora | ANTHRACITE